Photos
2022-23 Milken Educators
Photo 4 of 36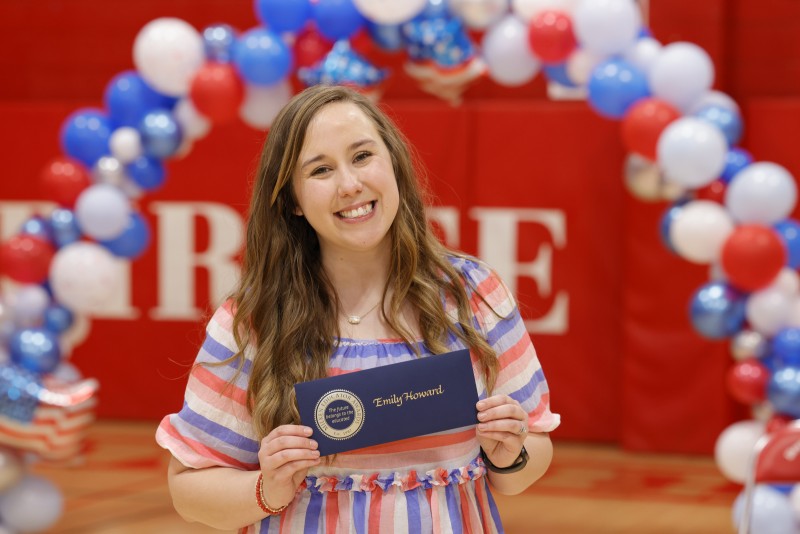 EMILY HOWARD (AR '22)
Third grade teacher, Drew Central Elementary School | Monticello, AR
When third grade teacher Emily Howard walked into the Drew Central Elementary gym on February 23, 2023, she had no idea the assembly would change her life. Arkansas' 2022 Milken Educator Award recipient sat perfectly still in her chair when she heard her name and saw the huge $25,000 check. Governor Sarah Huckabee Sanders and Department of Education Secretary Jacob Oliva joined NIET CEO Dr. Josh Barnett, representing the Milken Family Foundation, to celebrate Emily, the first Milken Educator ever recognized in Drew Central Schools. "Teachers do some of the hardest work of anyone in the country," Governor Sanders told us after the assembly. "Recognizing educators in front of their students and peers, as well as dignitaries from around the state, shows the importance we place on education and the respect we have for the profession."
A hometown hero who was once a student in Monticello herself, Emily is a teacher leader who supports both children and colleagues in rural Drew County. She was inspired to teach by her older sister, who began teaching elementary school nearby when Emily was in high school. "I saw the way she and my dad [a minister] poured into people, and I thought I could use education to teach kids, love on kids, and help kids feel seen," she told us. "That's all I want — to empower students."
---
All photos should be credited to "Milken Family Foundation" unless otherwise noted.
Download a high-resolution version of this image
---