Photos
2022-23 Milken Educators
Photo 11 of 36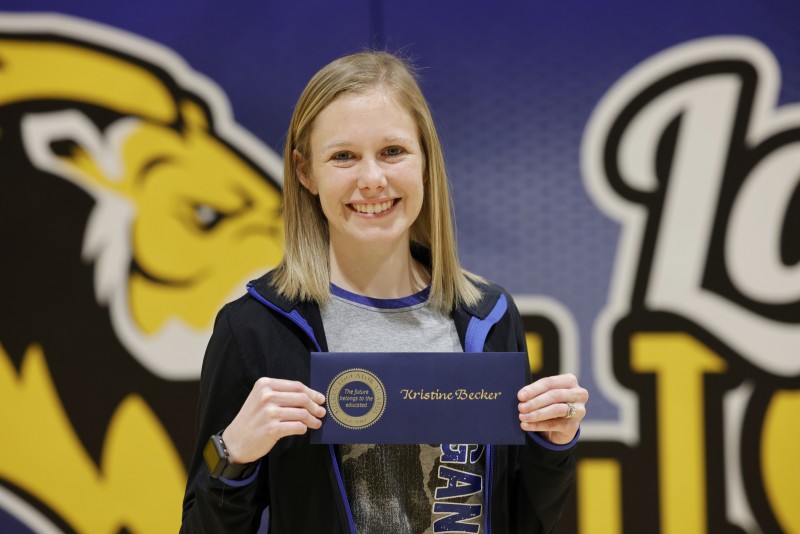 KRISTINE BECKER (KS '22)
Fourth grade teacher, Logan Elementary School | Topeka, KS
The Logan Lions couldn't contain their joy when we presented fourth grade teacher Kristine Becker with Kansas' 2022-23 Milken Educator Award and $25,000. Kansas Commissioner of Education Dr. Randy Watson joined us on January 18, 2023 for Kristine's special surprise, along with students, staff, media, and more than a dozen veteran Milken Educators.
Kristine is a master of classroom transformations, creating immersive environments where students have so much fun they hardly realize they're learning. She's held mock elections to mirror the national presidential vote, built a fake campfire in the middle of her classroom-turned-campsite for science experiments, and created a spy headquarters with black lights and glow-in-the-dark accessories. Kristine's dedication delivers: From 2019 to 2021, the school's fourth grade student proficiency nearly doubled in ELA and more than doubled in math.
Like many Milken Educators, Kristine says she's always wanted to teach. "I dreamed of being able to impact others' lives and build relationships with students for lifelong learning," she told us after her surprise Milken Award notification. And here's a fun fact: Veteran Milken Educator Brad Nicks (KS '09) taught Kristine in high school (she even babysat his son). Brad now counts three former students who have joined Kansas' Milken Educator Network — Kristine, plus Ryan Pfeifer (KS '21) and Carly Bowden (KS '19)!
---
All photos should be credited to "Milken Family Foundation" unless otherwise noted.
Download a high-resolution version of this image
---