Photos
2022-23 Milken Educators
Photo 14 of 36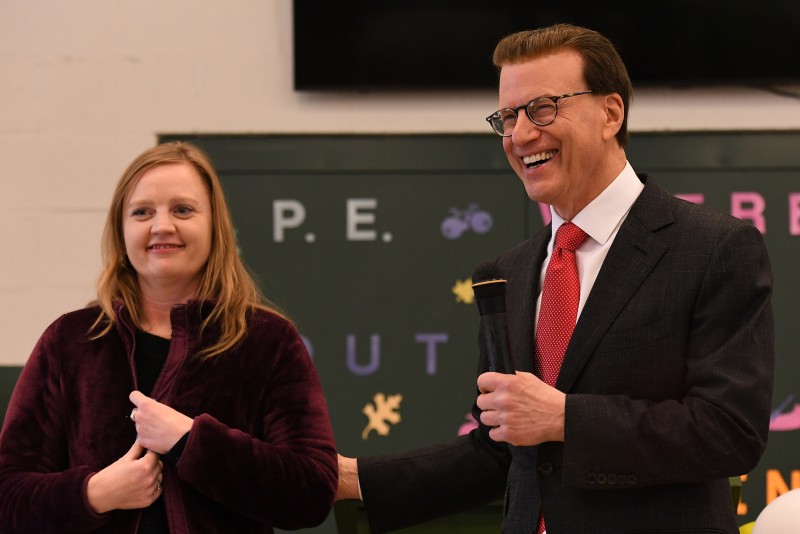 CORRIE CAMPBELL (LA '22)
Third grade teacher, Green T. Lindon Elementary School | Youngsville, LA
When third grade ELA and social studies teacher Corrie Campbell realized that the January 25, 2023 assembly at Green T. Lindon Elementary in Lafayette Parish was actually organized to celebrate her, "my mind went blank — they couldn't possibly be calling my name!" Milken Educator Awards Founder Lowell Milken surprised Corrie with a $25,000 Louisiana Milken Award in front of proud students and colleagues, veteran Milken Educators, leaders from the National Institute for Excellence in Teaching, local media, and visiting dignitaries including Louisiana Superintendent of Education Dr. Cade Brumley. Corrie's students thrive in her care, posting double-digit improvements in proficiency.
Corrie decided to pursue a career in education after hearing about her aunt's experiences in the classroom. "I always had a heart for kids who struggled," Corrie says. "She talked to me about how she helped her students and impacted them for life. Teachers have their kids all day long, every day — you have the time to really pour into their lives and make them feel seen, heard, loved, and acknowledged."
---
All photos should be credited to "Milken Family Foundation" unless otherwise noted.
Download a high-resolution version of this image
---