Photos
2022-23 Milken Educators
Photo 21 of 36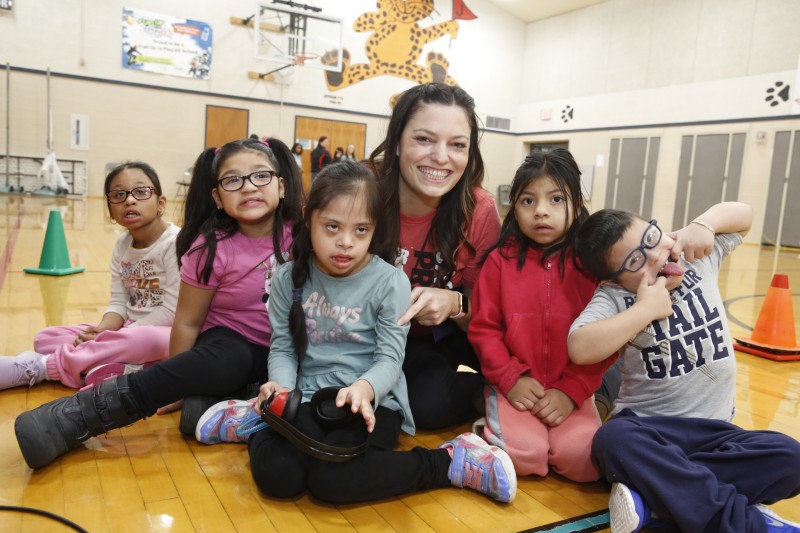 LISA MOODY (NE '22)
Special education teacher, Jefferson Elementary School | Omaha, NE
Special education teacher Lisa Moody is changing lives at Jefferson Elementary and throughout Omaha Public Schools. The hybrid inclusive education program she spearheaded mainstreams students in her Alternate Curriculum Program into general education classrooms. Special education students learn basic social skills in the classroom while working with Lisa on academic subjects and life skills. The program has now expanded to several schools throughout the district.
Lisa's colleagues rose to give her a standing ovation today when we presented her with Nebraska's 2022-23 Milken Educator Award and a $25,000 check. Dr. Deborah Frison, Nebraska deputy commissioner of school improvement and support, and U.S. Representative Don Bacon joined us for the big surprise, as well as nearly a dozen veteran Milken Educators.
Lisa was born with cerebral palsy, which she says makes her uniquely attuned to her students' needs. "I've dealt with living in a world that wasn't built for me every day of my life," she told us after the assembly. "I take that experience and apply it to my practice as a teacher." She also hopes that families see her as an inspiration: "I hope they see that their children's challenges don't have to define their outcome in life. The sky's the limit."
---
All photos should be credited to "Milken Family Foundation" unless otherwise noted.
Download a high-resolution version of this image
---