Photos
2022-23 Milken Educators
Photo 30 of 36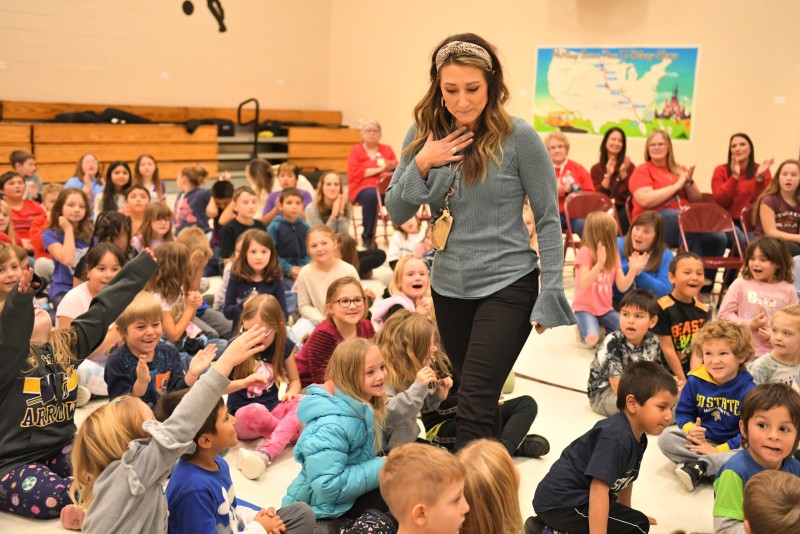 ABBY TURBAK (SD '22)
First grade teacher, McKinley Elementary School | Watertown, SD
It seemed completely fitting that Abby Turbak was sitting cross-legged on the floor among her first graders when she learned she'd won South Dakota's 2022 Milken Educator Award and $25,000. As students shrieked with delight and thunderous applause broke out in the gym, Abby tried to process the news: "I just couldn't believe they said my name," she told us after the assembly on December 2, 2022. South Dakota Secretary of Education Tiffany Sanderson joined us for Abby's Milken Award surprise at McKinley Elementary, an event that made history: Abby is the first ever Milken Award recipient in Watertown School District.
When it was her turn to address the assembly, Abby thanked her colleagues and school leadership for their support: "McKinley's the best!" Though she currently teaches first grade, Abby has worked with students from preschool to fifth grade over her 13-year career. "I got into education because I wanted to make a difference," she said. "I love seeing kids learn and grow. I just try to do what's best for them every day."
---
All photos should be credited to "Milken Family Foundation" unless otherwise noted.
Download a high-resolution version of this image
---