Photos
2022-23 Milken Educators
Photo 31 of 36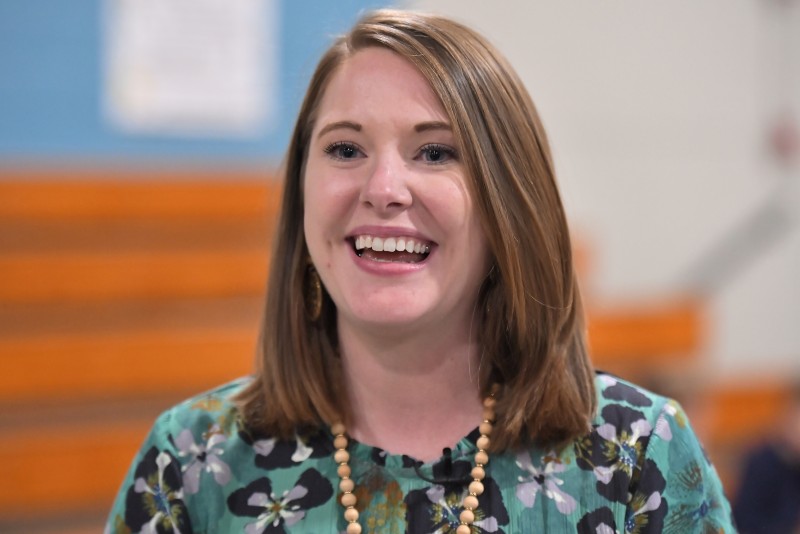 ALEXA GUYNES (TN '22)
Fifth grade teacher, Dogwood Elementary School | Germantown, TN
Fifth grade teacher Alexa Guynes starts every day in her classroom at Dogwood Elementary reading a picture book aloud. Picture books might seem too simple for tweens, but the discussions are reflective and analytical: What does this item symbolize? What can this person teach us? The daily story time makes the classroom feel supportive, nurturing and homey, and students love it. "Being able to read 180 books with students and have a classroom family centered around literacy is the best part of our day," says Alexa. "Literacy is what changes the world."
The November 17 assembly changed this teacher's world when Alexa won Tennessee's 2022 Milken Educator Award and $25,000, the first Milken Award ever presented in Germantown Municipal School District. Brooke Amos, assistant commissioner of human capital for the Tennessee Department of Education, joined us for the announcement, and Commissioner of Education Dr. Penny Schwinn congratulated Alexa in a video message. "When they said my name, I kind of floated out of my body a little bit," Alexa told us after her surprise notification. "I don't even think it's sunk in yet!"
P.S. Turns out this wasn't Assistant Commissioner Amos' first Milken Educator Award notification. In 1999, she was in the room at Hunters Lane Comprehensive High School when her English teacher, Dr. Sharon Chaney, won the Milken Educator Award in Nashville! "It's stayed with me throughout my career in education," Assistant Commissioner Amos told us. "Seeing that recognition for her was just incredible."
---
All photos should be credited to "Milken Family Foundation" unless otherwise noted.
Download a high-resolution version of this image
---