Photos
Meet the 2015-16 Milken Educator Award Winners
Photo 34 of 37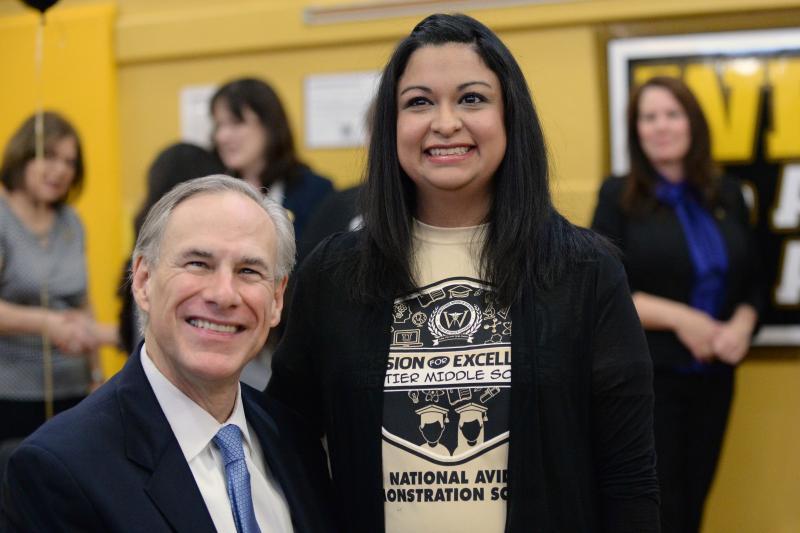 Nationwide
Laura Servin (TX '15) | Math teacher, Whittier Middle School | San Antonio, TX
Date of Award: February 18, 2016
Algebra teacher Laura Servin sets high expectations and actively involves students in their own progress and outcomes. She pays acute attention to individual needs, offering tutoring before and after school, as well as during lunch and on weekends, to ensure that her students stay on task. Catering to the school's 98% Hispanic population — 94% of whom are on free- and reduced-price lunch — Servin communicates to students and their parents in Spanish as well as English, and makes building strong relationships paramount to success. Her algebra students have achieved 100% mastery on the state algebra test, and students in her other math classes earn high pass rates. In addition to teaching algebra and other middle-school math classes, Servin is an AVID teacher, serves on the school leadership team, mentors other teachers, helps lead the pep squad, and is the school's sponsor on the National Junior Honors Society (NJHS). 
Pictured: Milken Educator Award recipient Laura Servin shares a moment with Texas Governor Greg Abbott at her surprise notification.
---
All photos should be credited to "Milken Family Foundation" unless otherwise noted.
Press version: Right-click here and select "Save Target As..." (Internet Explorer) or "Save Link As..." (Firefox) to download AP-spec or best-available photo.
---