Photos
Our 2016-17 Milken Educators
Photo 7 of 33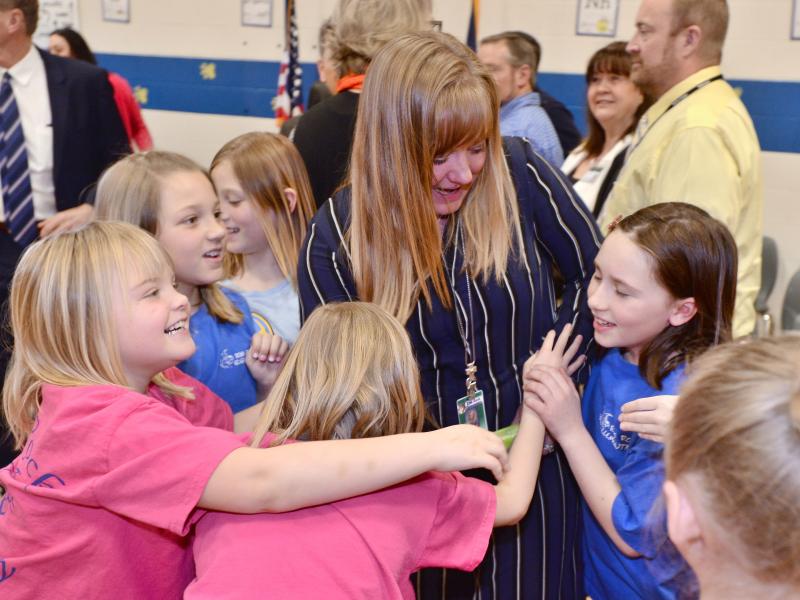 Felicia Casto (CO '16) | Instructional mathematics coach, Rim Rock Elementary School | Fruita, CO
Date of Award: February 13, 2017
Math teacher Felicia Casto was absolutely shocked when Lowell Milken called her name. And that's just the way we like it! We take the surprise element of our Milken Educator Awards notifications very seriously. Which is why, when the office of U.S. Senator Cory Gardner tried to get us to share the recipient's name for this notification ahead of time so they could prepare a special proclamation for her, we wouldn't budge. Regional Director Betsy Bair told us that not even the senator's top security clearance and role on the Foreign Relations Committee could convince us to share the tightly-held secret.
As Rim Rock's math coach, Felicia works with students in grades kindergarten through five each week, either before school or during the day, and also coaches Rim Rock's teachers. Because of her, both students and teachers have embraced a growth mindset, taking on challenges and constantly looking for ways to improve outcomes. And improve they do: most students who work with Felicia show a year's growth or more, and the school's reading and math scores rival state averages.
More about Felicia: Bio | Photos | Video | Spotlight interview
---
All photos should be credited to "Milken Family Foundation" unless otherwise noted.
Press version: Right-click here and select "Save Target As..." (Internet Explorer) or "Save Link As..." (Firefox) to download AP-spec or best-available photo.
---