Press Releases
2023
2022
2021
2020
Four Washington, D.C., High School Students Receive Milken Scholars Award
Unique Scholarship Provides a $10,000 Cash Prize Plus a Lifetime of Mentoring and Resources

June 20, 2022
Santa Monica, Calif., — The Milken Scholars, a joint initiative of the Milken Institute and the Milken Family Foundation, has chosen four talented students from Washington, D.C., for its 2022 scholarship program after a rigorous nomination, application and interview process.
Open to college-bound high school seniors in Washington, D.C., New York City and Los Angeles County, Milken Scholars are selected based on academic performance, community service, leadership and their ability to persevere in the face of personal challenges. Past recipients include inaugural poet Amanda Gorman; Ruben Harutunian, deputy chief of mission at the U.S. Embassy in Minsk, Belarus; Dr. Joelle Simpson, chief of emergency medicine at Children's National Hospital; and award-winning entrepreneur and author Ali Kriegsman.
The 2022 Washington, D.C., Milken Scholars are:
Elizabeth Abatan, McKinley Technology High School (Johns Hopkins University)
Clarke Dickens, Capital City Charter High School (University of Pennsylvania)
Hannah Menghis, BASIS DC (Brown University)
Alex O'Sullivan, BASIS DC (Yale)
"The Milken Scholars Program has an immeasurable impact on the next generation of exceptional students by providing its recipients with crucial resources like scholarship funds and a lasting community of professional mentorship," said Simone Friedman, head of philanthropy for EJF Philanthropies, which sponsors the D.C. Milken Scholars. "We are pleased to continue to partner with this program and look forward to what the future holds for these emerging leaders."
Mike Milken and his wife Lori founded the Milken Scholars Program in 1989 to promote and assist young people as they navigate the transitions from high school to college and from college to graduate school or the world of work. Recipients receive a $10,000 scholarship, and more importantly, gain a lifelong support system that includes ongoing career-related counseling, assistance in securing internships, opportunities for community service, and a fund to assist their pursuit of post-undergraduate career goals.
"Lori and I continue to be impressed, year after year, by the remarkable accomplishments and enthusiasm of all the Milken Scholars," said Mike Milken. "These amazing young men and women represent the very best of America."
In July, the Washington, D.C., Milken Scholars will attend a four-day summit in Los Angeles with over 150 Scholars including new Scholars from New York City and Los Angeles County, undergraduates and alumni facilitators.
MEET THE 2022 D.C. MILKEN SCHOLARS
Elizabeth Abatan
Johns Hopkins University
Elizabeth Abatan sees STEM literacy as the key to helping people make better decisions for themselves, their community and the country. The salutatorian at McKinley Technology High School in Washington, D.C, Elizabeth started tutoring middle schoolers online in math and science during the pandemic, continuing even after in-person instruction resumed. Motivated by the desire to help her community grapple with COVID-19, as well as her own experiences as a patient with scoliosis, Elizabeth sought out multiple channels to support science education. She volunteered with Planned Parenthood, served as a lab manager for McKinley's Academy of Biotechnology, and shared mental and sexual health resources with other teens as a youth health educator and justice advocate for the Young Women's Project within DC Public Schools.
Elizabeth is an AP Scholar with Honors and an OSSE (Office of the State Superintendent of Education) Scholar. She earned the Congress of Future Medical Leaders Award of Excellence from the National Academy of Future Physicians and serves on the DC Public Schools Chancellor Advisory Board. Elizabeth studied psychology, sociology and microbiology at Trinity Washington, Emory and Howard Universities. She served as treasurer for McKinley's student government and gave tours of the school garden with the Mighty Greens club. A four-year cheerleader, Elizabeth earned three first-place awards with her team at local and state championships. As an intern at the Office of the Comptroller of the Currency, an independent bureau of the U.S. Department of the Treasury, Elizabeth researched banking, generational wealth, retirement savings and ways for the banking industry to combat climate change.
Elizabeth will study biology at Johns Hopkins University and plans a career in orthopedic surgery.
Clarke Dickens
University of Pennsylvania
Debating has helped Clarke Dickens see their community environment through a different lens. Clarke started debating in middle school, when medical issues limited their ability to play sports. Exploring topics like STEM education, our country's immigration policies and international arms sales expanded Clarke's worldview. Learning to gather facts, craft arguments and present succinctly as the timer ticked down built Clarke's confidence and public speaking skills. The captain of the debate team at D.C.'s Capital City Charter High School, Clarke was named the Washington Urban Debate League National Debater and has won more than 15 honors for best speaker, financial literacy, and best team.
Clarke is Capital City Charter's salutatorian and received a QuestBridge National College Match Scholarship. They were named a finalist for Project Soapbox DC's Mikva Challenge and the Poetry Out Loud Competition. Clarke won the Harvard Book Prize and researched local resistance to Italy's invasion of Ethiopia for National History Day. As a member of D.C.'s State Board of Education Student Advisory Council, Clarke advocated for resources for Hispanic students and voted in support of a queer curriculum for DC Public Schools. They studied Arabic through the U.S. Department of State's Virtual National Security Language Initiative for Youth. Clarke played goalie and served as defensive coach for Capital City Charter's varsity soccer team and learned to grow potatoes and carrots as a community garden volunteer in Southwest D.C.
Clarke will study criminology at the University of Pennsylvania and plans a career in public service.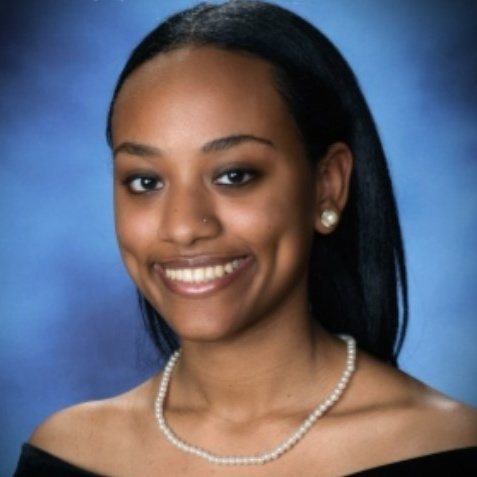 Hannah Menghis
Brown University
For Hannah Menghis, science is more than an academic interest—it's a way to understand the world and prepare for the future. As an intern for the Carnegie Academy for Science Education, Hannah did research, prepared labs for experiments and helped with First Light, which introduces middle schoolers to astronomy through lectures, animated discussions and hands-on projects. For her senior project at BASIS DC, a public charter school in Washington DC, Hannah joined plant biologists from Carnegie's Stanford department, using the genome editing tool CRISPR to modify microalgae enzymes to find ways to make photosynthesis more efficient through changing climate conditions.
Hannah is an AP Scholar with Distinction, an OSSE (Office of the State Superintendent of Education) Scholar, and a QuestBridge National College Match finalist and College Prep Scholar. She led build events for BASIC DC's Science Club and is a National Honor Society member. An accomplished musician, Hannah plays the piano, violin, cello and flute, and has performed with the DC Youth Orchestra Program at the National Cathedral, THEARC and GALA Hispanic Theatre. She speaks Chinese and Tigrinya, a language from her parents' native Eritrea. Hannah is an avid gardener and grows vegetables, fruit and herbs for her local community. She shares her love of gardening and sustainable agriculture through VeggieTime, an educational program for elementary students from underserved areas of the District.
Hannah will study biology at Brown University and plans a career in scientific research.
Alex O'Sullivan
Yale
BASIS DC has a strong YMCA DC Youth and Government (YAG) club thanks to Alex O'Sullivan. Alex founded the charter school's delegation, growing the group to 40 members through weekly meetings, bill-writing workshops and mock debates. When the pandemic interrupted YAG in-person conferences, Alex hosted virtual town halls where students discussed current events like voting rights and the Capitol insurrection. As YMCA D.C. Youth Mayor, Alex led the city's program and served on the YMCA of Metropolitan Washington's Board of Directors. Alex's bill establishing reparations for African Americans won Best Bill at the YMCA's Conference on National Affairs, and BASIS DC's group has won several honors including Outstanding Delegation.
Alex is an AP Scholar with Distinction and a U.S. Presidential Scholars semifinalist. He received the Ham4Progress Award for Educational Advancement and the National Seal of Biliteracy. Alex co-captained his school's Washington Urban Debate League team and has won team and individual awards at regional and national tournaments. As a student representative for the D.C. State Board of Education, Alex wrote a resolution promoting the recruitment of African American teachers, served on the Social Studies Standards Revision Committee, and successfully advocated to expand the number of student delegates to the board. As a member of the National Honor Society, Alex created a tutoring program that pairs BASIS high school students with middle schoolers. He produced videos on medical racism, implicit bias, and dealing with differing political views in friendships as a fellow for the PBS NewsHour Student Reporting Labs. Alex interned for federal judge Emmet G. Sullivan and referees youth soccer games.
Alex will pursue African American studies and statistics at Yale and plans a career in law.
About the Milken Scholars
Michael and Lori Milken founded the Milken Scholars in 1989 to honor exceptional young individuals who have demonstrated the potential to make a profound difference in the world. Scholars are chosen while high school seniors on the basis of distinguished academic performance, school and community service, leadership, and evidence of having overcome personal and social obstacles. Milken Scholars receive financial assistance plus a strong support system of resources and networks during their academic and professional careers.
As of 2022, more than 540 Milken Scholars have been selected from over 200 high schools in Los Angeles County, New York City and Washington, D.C. Milken Scholars embody a variety of ages, backgrounds, and academic and professional interests, and attend some of the top colleges and universities in the country. Twenty-five percent were born outside the United States and 77 percent have parents originating from 75 countries. Over half were the first in their family to attend college. The class of 2022 is one of the most diverse yet, representing 12 countries spanning North America, Central America, the Caribbean, East Africa, West Africa, Western Europe, East Asia, Southeast Asia, and South Asia.
Throughout their college careers, Scholars are in regular communication with Scholars staff and each other. They meet with Foundation staff and mentors during campus visits and special events, including an annual Summit that provides guidance and insights through speakers, panels and activities. These resources create a setting that propels these exceptional youth into a position where they can achieve their personal, academic and professional goals and, in the process, become lifelong leaders for a better world. For more information about the Milken Scholars Program, visit www.MilkenScholars.org.
Press Contacts:
Jana Rausch
Vice President, Communications
310-570-4774 Office 310-435-9259 Cell
---