Press Releases
2023
2022
2021
2020
Four Washington, D.C., High School Students Receive Milken Scholars Award
Unique Scholarship Provides a $10,000 Cash Prize Plus a Lifetime of Mentoring and Resources

June 28, 2023
Santa Monica, Calif., — The Milken Scholars, a joint initiative of the Milken Institute and the Milken Family Foundation, has chosen four talented students from Washington, D.C., for its 2023 scholarship program after a rigorous nomination, application and interview process.
Open to college-bound high school seniors in Washington, D.C., New York City and Los Angeles County, Milken Scholars are selected based on academic performance, community service, leadership and their ability to persevere in the face of personal challenges. Past recipients include inaugural poet Amanda Gorman; Ruben Harutunian, deputy chief of mission at the U.S. Embassy in Minsk, Belarus; Dr. Joelle Simpson, chief of emergency medicine at Children's National Hospital; and award-winning entrepreneur Emanuel Yekutiel.
The 2023 Washington, D.C., Milken Scholars are:
Jessica Amaya Torres, Benjamin Banneker High School (Johns Hopkins University)
Mattie Isaac, Benjamin Banneker High School (Princeton University)
Merry Tola, Benjamin Banneker High School (Northwestern University)
Alyssa Toussaint, District of Columbia International School (DCI) (Yale)
Mike Milken and his wife Lori founded the Milken Scholars Program in 1989 to promote and assist young people as they navigate the transitions from high school to college and from college to graduate school or the world of work. Recipients receive a $10,000 scholarship, and more importantly, gain a lifelong support system that includes ongoing college advising, career-related counseling, assistance in securing internships, opportunities for community service, and a fund to assist their pursuit of post-undergraduate career goals.
"After more than three decades, the Milken Scholars family has grown to more than 560 Scholars. Each of these outstanding young men and women is a future leader," said Mike Milken. "Lori and I continue to be impressed, year after year, by their remarkable accomplishments and enthusiasm."
In July, the Washington, D.C., Milken Scholars will attend a four-day summit in Los Angeles with over 100 Scholars including new Scholars from New York City, and Los Angeles County, undergraduates and alumni facilitators.
MEET THE 2023 D.C. MILKEN SCHOLARS
Jessica Amaya Torres
Johns Hopkins University
Jessica Amaya Torres understands the power of storytelling to enact change in her community. When her family faced eviction during the COVID-19 pandemic, Jessica learned about "hostile architecture" — deliberate choices to prevent homeless people from finding refuge in public spaces, like slanted benches with extra armrests on which it's impossible to lie down. She wrote an essay combining her research and personal experiences, honed her public speaking skills, and submitted the essay in video form to the One World Education High School Challenge, where she won the top prize. Jessica is the inaugural winner of the One World Education Distinguished Alumni Award.
Jessica graduated from Benjamin Banneker High School, earning an IB (International Baccalaureate) diploma. She is a QuestBridge National College Match Finalist and received the Harvard Book Prize. Jessica is a member of the National Honor Society, French Honor Society, and Mu Alpha Theta Honor Society for math, through which she tutored fellow students and helped organize the school's Math Day activities. As a ninth grader, Jessica founded Banneker's Mental Health Club to support her peers and serve as a liaison with teachers and counselors. She led Hispanic Heritage Month assemblies and organized Cultural Day events with the LatinX club.
Jessica served her community through work with the Latin American Youth Center. She led interns in packing and distributing food, birth control and hygiene products, and used social media to promote healthy relationships and testing for sexually transmitted diseases. Jessica educated the community on the effects of drug use, shared recovery resources, and helped with naloxone training; promoted the importance of the U.S. census; and led discussions of racism and classism. Working with a chef, Jessica shared recipes for nutritious meals made with staples from Latin American Youth Center's (LAYC) food pantry and created handouts offering solutions for eliminating food deserts.
Jessica will study biology and public health at Johns Hopkins University and plans a career in scientific research.
Mattie Isaac
Princeton University
Mattie Isaac studies history to support her community. She learned about World War II as a youth ambassador at the United States Holocaust Memorial Museum, creating a virtual exhibit that included interviews with survivors, witnesses and perpetrators, as well as interactive maps and primary sources from the museum's archives. Mattie was a member of the inaugural class of Harvard Undergraduate International Relations Scholars, researching ways for sub-Saharan Africa to respond and adapt to the economic challenges of the COVID-19 pandemic. Her essay on intimate partner violence in the District — which urged public schools to teach healthy dating behaviors, create schoolwide prevention events and revise sexual education curriculum — earned the first place prize in the One World Challenge Public Vote and High School Writing competition.
Mattie graduated as valedictorian from Benjamin Banneker High School with an International Baccalaureate (IB) diploma. She is a College Board National African American Recognition Scholar, OSSE (Office of the State Superintendent of Education) Scholar, and member of the National Honor Society, as well as Mu Alpha Theta and French Honor Societies. Mattie received the Princeton University Book Award, Kiwanis Club of Washington, D.C., Student Leader Award and CIEE Global Navigator Scholarship. She debated police reform and the school-to-prison pipeline in Banneker's Debate Club and served as secretary of the school's Gay-Straight Alliance. A four-year member of WISE (Women Inspiring Strength and Empowerment), Mattie led peers in discussions of self-esteem, healthy relationships, setting boundaries, breaking stereotypes and exploring career paths.
Mattie volunteered at local elementary schools and interned for both the Office of the Secretary of D.C. and The Literacy Project. She competed on Banneker's track and field team, participated in the drama club and enjoys playing piano. Mattie's studies have taken her around the world to places like South Africa, Dubai, Antigua, France, China and Cambodia.
Mattie will study political science at Princeton and plans a career in law.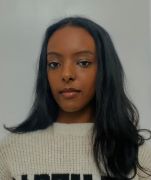 Merry Tola
Northwestern University
Merry Tola has a good head start on her planned future as a physician. Inspired by her family's difficulties obtaining adequate medical care in her native Ethiopia, Merry spent more than 200 hours volunteering at Howard University Hospital. She calmed anxious families, brought patients water and warm blankets, organized paperwork, and transported patients around the facility. During the holidays, Merry collected clothing, toys and canned goods for the hospital's Christmas drive. Observing and interacting with patients, families and hospital staff built important skills: gratitude, compassion, patience and perseverance.
Merry graduated from Benjamin Banneker High School with an International Baccalaureate (IB) diploma. She is a QuestBridge College Match Scholar and received the College Board National African American Recognition Award and the Dartmouth Alumni Club Book Award. Merry was a member of the National Honor Society and Mu Alpha Theta Honor Society. As vice president of the Spanish Honor Society, she helped plan holiday celebrations, dance lessons and potlucks honoring Hispanic culture. At Banneker, Merry researched and debated solutions to promote climate action and gender equality as a member of the Model United Nations and organized mental health awareness events and first aid classes as a youth mental health ambassador. The co-founder and president of Banneker's Community Projects Club, Merry worked with more than 30 fellow students to raise funds and assemble care packages for community shelters serving women and youth.
As a volunteer with the Latin American Youth Center (LAYC), Merry participated in education programs focused on gun violence, preventing drug abuse, LGBTQ+ rights and the importance of the U.S. Census. She honed her lab stills as a biotechnology research assistant at the Carnegie Institution for Science, where she mimicked the production of insulin in experiments using autoclaves, electrophoresis and micropipettes.
Merry will study biology, with a double minor in English and Spanish, at Northwestern University, and plans a career in medicine.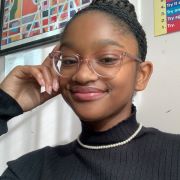 Alyssa Toussaint
Yale
Alyssa Toussaint is committed to making lasting contributions to her community. As an inaugural member and vice president for Rep Our City, she educated fellow students at District of Columbia International School (DCI) about the legislative process behind D.C.'s push for statehood. In collaboration with the Ukrainian National Women's League of America, Alyssa led a fundraiser selling handmade blue and yellow ribbons, pins and stickers for women in the Ukraine affected by conscription. Her interest in sustainability led her to the Exelon Foundation STEM Leadership Academy, where she worked with energy professionals to conceive environmentally friendly products.
Alyssa graduated as Student of the Year from DCI with an International Baccalaureate (IB) diploma. She is a member of the National Honor Society and an OSSE (Office of the State Superintendent of Education) Scholar. As lead student ambassador, Alyssa wrote a handbook to guide future ambassadors and conducted tours in English and Spanish for prospective students, families and teachers. She served as head delegate and president emeritus of the school's Model United Nations team, training teammates, running elections and raising funds to subsidize travel costs for regional and national competitions. Alyssa earned top-three honors at competitions at William & Mary, Yale, McGill University and Georgetown University. She also received the Diplomacy Award at American University's Model United Nations Conference.
An accomplished dancer, Alyssa studied classical ballet and modern, jazz, contemporary and improvisational dance, and musical theater at the Washington School of Ballet since she was 13 years old. She danced in summer intensives at the Joffrey Ballet School in New York City and the John F. Kennedy Center's Dance Education programs, where she worked with principal dancers from Alvin Ailey American Dance Theater and American Ballet Theatre. Alyssa has also performed with RawArts Dance, a professional contemporary dance company.
Alyssa will study chemistry and performance studies at Yale and plans a career as a sustainability analyst.
About the Milken Scholars
Michael and Lori Milken founded the Milken Scholars in 1989 to honor exceptional young individuals who have demonstrated the potential to make a profound difference in the world. Scholars are chosen while high school seniors on the basis of distinguished academic performance, school and community service, leadership, and evidence of having overcome personal and social obstacles. Milken Scholars receive financial assistance plus a strong support system of resources and networks during their academic and professional careers.
As of 2023, more than 560 Milken Scholars have been selected from over 200 high schools in Los Angeles County, New York City and Washington, D.C. Milken Scholars embody a variety of ages, backgrounds, and academic and professional interests, and attend some of the top colleges and universities in the country. Twenty-five percent were born outside the U.S. and 78% have parents originating from 76 countries. Over half were part of the first generation in their family to attend college, while 46% were the first person in their family to attend college in the U.S. The class of 2023 is one of the most diverse yet, representing 17 countries spanning North America, Central America, the Caribbean, East Africa, Western Europe, Central Asia, East Asia, Southeast Asia, and South Asia.
Throughout their college careers, Scholars are in regular communication with Scholars staff and mentors during campus visits and special events, including an annual Summit that provides guidance and insights through speakers, panels and activities. These resources create a setting that propels these exceptional youth into a position where they can achieve their personal, academic and professional goals and, in the process, become Lifelong Leaders for a Better World. For more information about the Milken Scholars Program, visit www.MilkenScholars.org.
MEDIA CONTACT:
Jana Rausch
Vice President, Communications
310-570-4774 Office 310-435-9259 Cell
jrausch@mff.org
---