Press Releases
2023
2022
2021
2020
Six Exceptional New York City High School Students Receive Milken Scholars Award
Unique Scholarship Provides a $10,000 Cash Prize Plus a Lifetime of Mentoring and Resources

June 6, 2023
Santa Monica, Calif., — The Milken Scholars, a joint initiative of the Milken Institute and the Milken Family Foundation, has chosen six talented students from New York City for its 2023 scholarship program after a rigorous nomination, application and interview process.
Open to college-bound high school seniors in Washington, D.C., New York City and Los Angeles County, Milken Scholars are selected based on academic performance, community service, leadership and their ability to persevere in the face of personal challenges. Past recipients include inaugural poet Amanda Gorman; Ruben Harutunian, deputy chief of mission at the U.S. Embassy in Minsk, Belarus; Dr. Joelle Simpson, chief of emergency medicine at Children's National Hospital; and award-winning entrepreneur Emanuel Yekutiel.
The 2023 New York Milken Scholars are:
Sandra Cheah, Fiorello H. LaGuardia High School of Music & Art and Performing Arts (University of Pennsylvania)
Lina Lin, Manhattan Hunter Science High School (MHSHS) (Yale)
Murat Khidoyatov, Franklin Delano Roosevelt High School (Yale)
Riya Singh, Townsend Harris High School (Yale)
Kitty Wang, Stuyvesant High School (Harvard)
Sally Williams, Brooklyn Technical High School (Harvard)
Mike Milken and his wife Lori founded the Milken Scholars Program in 1989 to promote and assist young people as they navigate the transitions from high school to college and from college to graduate school or the world of work. Recipients receive a $10,000 scholarship, and more importantly, gain a lifelong support system that includes ongoing college advising, career-related counseling, assistance in securing internships, opportunities for community service, and a fund to assist their pursuit of post-undergraduate career goals.
"After more than three decades, the Milken Scholars family has grown to more than 560 Scholars. Each of these outstanding young men and women is a future leader," said Mike Milken. "Lori and I continue to be impressed, year after year, by their remarkable accomplishments and enthusiasm."
In July, the New York City Milken Scholars will attend a four-day summit in Los Angeles with over 100 Scholars including new Scholars from Washington, D.C., and Los Angeles County, undergraduates and alumni facilitators.
MEET THE 2023 NEW YORK MILKEN SCHOLARS
Sandra Cheah
University of Pennsylvania
Sandra Cheah is a fierce advocate for gender equality. A National Youth Advisory Board Member for Plan International USA, a humanitarian organization working to advance children's rights and gender equality in more than 75 countries, Sandra collaborated with representatives from the White House, the United States Agency for International Development, and Meta to address online gender-based violence. She has spoken on the importance of diversity and inclusion in politics and recently traveled to Indonesia to launch a Plan International project to activate government leaders to build inclusive spaces for underrepresented groups in politics.
Sandra, a graduate of Fiorello H. LaGuardia High School of Music & Art and Performing Arts, is a QuestBridge National College Match Recipient, Thrive Scholar, Jack Kent Cooke Scholarship semifinalist, and AP Scholar with Distinction. She is a member of the National Honor Society and attended Indiana University's Young Women's Institute. As a Global Navigators Scholar for the Council on International Educational Exchange High School Study Abroad's World Government Program in Lisbon, Sandra studied Portuguese language and culture, learned about European politics, and researched the Philippines' war on drugs.
To engage female and nonbinary LaGuardia students in entrepreneurship, Sandra founded LAG EntrepreneuHERship, bringing in guest speakers to teach business fundamentals and lead community-building activities. With the Advocacy Project Club, Sandra co-founded U'N'I' a youth-led company celebrating immigrant identities. U'N'I, has launched cultural events with hundreds of attendees at LaGuardia High School and in the Stavros Niarchos Foundation Library branch of the New York Public Library. As co-founder and CEO of Dear GlobalGirls, a platform for sharing personal experiences with social justice issues, Sandra led more than 50 editors, writers and designers who produced 15 magazines on mental health, period poverty and racial injustice. She volunteers for New York State's largest soup kitchen and works with Heart of Dinner to combat food insecurity among NYC's Asian American older adults.
Sandra will study economics and public policy at the University of Pennsylvania and plans a career in business, with a focus on DEI (diversity, equity and inclusion).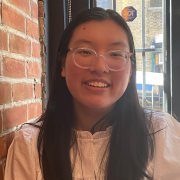 Lina Lin
Yale
Lina Lin has worked to educate her peers about economics and finance. After an online economics class during the pandemic piqued her interest, Lina founded the Global Youth Economics Forum. Her first online event featured an economist from the European Commission talking about the economic history of the European Union. Lina and a team of 25 volunteers have reached more than 1 million students via social media and over 55 virtual and in-person events. With recently secured grant funding, the organization is creating scholarships for high school and college students. Lina also served as chief events officer for EconHacks, a student-led economics network, booking speakers for the group's economics, business and finance conferences.
A graduate of Manhattan Hunter Science High School (MHSHS), Lina is an AP Scholar and member of the National Honor Society. She received the Daily Points of Light Award, Zonta Club Women in Public Affairs Award, and the KPMG Future Leaders Scholarship. Lina researched educational technology as an intern at Accenture and studied linear algebra, game theory and computer modeling in the Della Pietra Applied Math Program at Stony Brook University. As a research assistant at Hunter College, Lina investigated the link between affordable housing and health for low-income women. This summer, Lina will intern at DREAM and attend the Bank of America Student Leaders Summit in Washington, D.C.
Lina worked as a Teen Reading Ambassador at the New York Public Library, providing homework help and organizing spelling bees and trivia quizzes for younger children. During the pandemic, Lina founded MHSHS' Key Club to foster a culture of community service. Now the school's largest student organization, the Key Club has more than 200 members who have completed 3,500 service hours. The group has held online trivia competitions, collected coats and school supplies, partnered with small businesses for community service, and raised funds for victims of the recent earthquake in Turkey and Syria.
Lina will study economics at Yale and plans a career in education entrepreneurship, public policy and effective altruism.
Murat Khidoyatov
Yale
For Murat Khidoyatov, science is a way to make the world a better place. Murat first encountered robotics in an after-school program in his native Kazakhstan, learning to apply mathematical theory and physics as he developed communication and teamwork skills. His team earned first place in the FIRST LEGO League Robotics Competition. When Murat arrived in the U.S. in 2020 and entered Brooklyn's Franklin Delano Roosevelt High School, he created and led a new FIRST Tech Challenge Robotics team, which went on to earn second place and a Judges' Choice Award. He studied Java Android development as an intern in Samsung's Coding Lab, creating a mobile app for online restaurant reservations in his Kazakh hometown. As co-founder of TailRed, Murat led a team of six high schoolers across the country to develop a website for sharing projects and research.
Murat is a QuestBridge National College Match and College Prep Scholar and an AP Scholar. He received the Quest for Excellence STEM Award and was a semifinalist in the MathWorks Math Modeling Challenge. Murat participated in weekly competitions and taught new members as the three-year captain of Roosevelt's math team. As junior and senior class representative in student government, he advocated for improvements and student needs and served as a liaison with Roosevelt administrators. Murat served as president of the National Honor Society and earned Roosevelt's 100-plus hour community service seal, organizing charity and mental health awareness events, tutoring fellow students in math and computer science, and helping Roosevelt teachers communicate with Russian-speaking students.
Murat spent two summers as a Harvard Undergraduate International Relationship Scholar, working with U.S. ambassadors, former government officials and policymakers to find solutions to global political issues. As the Eurasia region representative, he collaborated with five other students from around the world to research neo-Eurasianism, the expansionist ideology of contemporary Russia. An accomplished pianist, Murat earned the Forte Piano Competition's gold medal and performed solo at Carnegie Hall.
Murat will study biomedical engineering at Yale and plans a career in engineering.
Riya Singh
Yale
Thanks to Riya Singh, salutatorian at Townsend Harris High School in Flushing, students with autism spectrum disorder (ASD) are less isolated. As president of the school's No Buddy Left Behind club, Riya leads more than two dozen volunteers in building relationships with students at nearby P255Q, a school focused on children and teens on the spectrum. The club holds holiday parties and game nights, raises funds, and pairs volunteers with P255Q students as pen pals. Volunteers visit P255Q daily to help students with math, writing and in-person conversation. No Buddy Left Behind, which has grown significantly under Riya's leadership, also educates the Townsend Harris community about ASD via schoolwide seminars and electronic leaflets.
Riya is a QuestBridge National College Match Recipient and AP Scholar with Distinction. She received the Quest for Excellence New Americans Award and is a member of the National Honor Society, New York State Science Honor Society, Robotics/Engineering Honor Society, Mu Alpha Theta Mathematics Honor Society, and ARCHON, the National Honor Service Honor Society. Riya developed a website on women's empowerment during the Girls Who Code summer immersion program, attended NASA's Minority University Research and Education Project Aerospace Academy, and studied climate change in the Columbia Society of Industrial and Applied Mathematics Coding Bootcamp. As multimedia editor of The Classic, a student-led publication at Townsend Harris, Riya oversees a team of contributors and works on all aspects of video production from concept to execution and promotion.
Riya serves as an assistant coach for her former middle school debate team, building students' confidence in public speaking and teaching members about finding credible sources, recognizing bias in evidence and formulating strong arguments. The team now consistently ranks in New York City's top 10 and competes in city and state tournaments. Riya judges monthly competitions and state championships for the New York City Urban Debate League, providing detailed feedback to competitors after each outing.
Riya will study computer science at Yale and plans a career in artificial intelligence.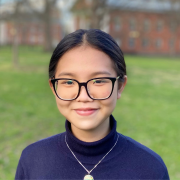 Kitty Wang
Harvard
Kitty Wang is a champion for gender equality in STEM, especially computer science. As director of mentorship for Girls Who Code at New York City's Stuyvesant High School, Kitty renovated the curriculum to highlight interdisciplinary fields and presented weekly lessons on cybersecurity, cryptography and web development. When Kitty took over as executive director of StuyHacks, she led the return to in-person hackathons, overseeing preparations, negotiating funding and partnerships and organizing technical workshops. She was the president and a founding member of Stuyvesant's Biology Olympiad, curating weekly lessons, developing problem sets, and collaborating with external organizations and biotechnology companies. The group now has more than 220 members and reached the final rounds of the USA Biology Olympiad competition.
Kitty is an AP Scholar with Distinction. She competed in the USA Computing Olympiad Gold Division, earned the National Center for Women & Information Technology Aspirations in Computing Award, and received the Dr. Bob Berman Award for Disruptive Innovation and Engineering at the Massachusetts Institute of Technology (MIT) BeaverWorks Summer Institute. At MITES (MIT Introduction to Technology, Engineering and Science), Kitty won the Best of MITES 2022 Science Writing Award. She executed differential power analysis and fault injection attacks as a research assistant at the MIT Lincoln Laboratory and developed a system to identify viable partner schools as a Robotics For All software engineering intern. Kitty is a 2023 Amazon Future Engineer Scholarship recipient.
Kitty facilitated peer tutoring for nearly 200 volunteers and more than 300 tutees as president of Stuyvesant's ARISTA National Honor Society, coordinated tutoring in computer science as a "sensei" for CS Dojo, and was a member of the National Chinese Honor Society. She served as director of IT for RISE (Ready to Inspire Scholastic Excellence), a student-led organization that fights educational inequity in public schools. An accomplished artist, Kitty won a New York Scholastic Art and Writing Gold Key Award. Her charcoal drawings have been featured at the Metropolitan Museum of Art.
Kitty will study computer science at Harvard and plans a career in cybersecurity and software engineering.
Sally Williams
Harvard
Sally Ann Williams is an experienced actress who understands the power art has to create community, advocate for change, combat hate and spread love. She has performed lead roles in productions of "Ms. Snoop Is Murdered," "Sorry, Wrong Number" and "Clue" at Brooklyn Technical High School. Sally performed individually and in groups and has learned to improvise, dance and sing in the Public Theater's Public Works acting classes, which she has attended since middle school. She has performed in four Public Theater productions at Delacorte Theater in Central Park, including featured roles in the Shakespeare in the Park production of "As You Like It" and Disney's "Hercules," the latter as a puppeteer. Sally shared her experiences in Public Theater in interviews with both Barron's and NBC News.
Sally is an AP Scholar with Honor. She is a member of the National Honor Society, Rho Kappa National Social Studies Honor Society, National African American Recognition Program and National Hispanic Recognition Program. Sally has raised money and completed research for Luv Michael, a nonprofit organization that trains and helps adults with autism to find fulfilling employment opportunities. Sally was one of 250 New York City high school students selected for The Cooper Union's Saturday Program, where she studied drawing, oil painting and poetry, and had her art exhibited at a Brooklyn street fair.
Sally is deeply committed to supporting community-building initiatives. She served as creative coordinator for Remote Buddies, which matches high school students with grade schoolers through video meetings to help with homework, play games, draw, bake and talk together. Sally started as a counselor in training and then became an assistant group leader for Center for Family Life, a local social services organization in Sunset Park, Brooklyn. She worked with a group of 25 children ages 7-10, defusing conflicts, promoting healthy self-expression, and leading field trips, games and songs.
Sally will study theater and government at Harvard and is considering careers in theater and law.
About the Milken Scholars
Michael and Lori Milken founded the Milken Scholars in 1989 to honor exceptional young individuals who have demonstrated the potential to make a profound difference in the world. Scholars are chosen while high school seniors on the basis of distinguished academic performance, school and community service, leadership, and evidence of having overcome personal and social obstacles. Milken Scholars receive financial assistance plus a strong support system of resources and networks during their academic and professional careers.
As of 2023, more than 560 Milken Scholars have been selected from over 200 high schools in Los Angeles County, New York City and Washington, D.C. Milken Scholars embody a variety of ages, backgrounds, and academic and professional interests, and attend some of the top colleges and universities in the country. Twenty-five percent were born outside the U.S. and 78 percent have parents originating from 76 countries. Over half were part of the first generation in their family to attend college, while 46% were the first person in their family to attend college in the U.S. The class of 2023 is one of the most diverse yet, representing 17 countries spanning North America, Central America, the Caribbean, East Africa, Western Europe, Central Asia, East Asia, Southeast Asia, and South Asia.
Throughout their college careers, Scholars are in regular communication with Scholars staff and mentors during campus visits and special events, including an annual Summit that provides guidance and insights through speakers, panels and activities. These resources create a setting that propels these exceptional youth into a position where they can achieve their personal, academic and professional goals and, in the process, become Lifelong Leaders for a Better World. For more information about the Milken Scholars Program, visit www.MilkenScholars.org.
MEDIA CONTACT:
Jana Rausch
Vice President, Communications
310-570-4774 Office 310-435-9259 Cell
jrausch@mff.org
---