Press Releases
2023
2022
2021
2020
The Lowell Milken Center Breaks Ground for New Unsung Heroes Park
June 29, 2021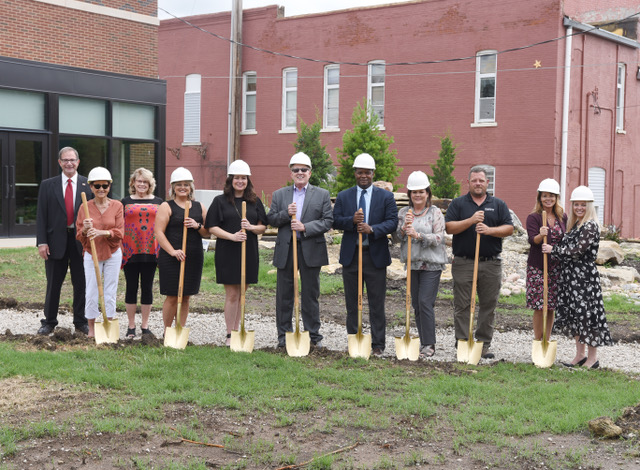 Construction on the Lowell Milken Center's new Unsung Heroes Park has officially begun, with groundbreaking taking place Tuesday, June 29, 2021, at 11:00 a.m. With this much-anticipated expansion to the Center and an opportunity to be part of Fort Scott's downtown revitalization, the Lowell Milken Center for Unsung Heroes is anxious to share this newest resource with both the community and the many visitors that come to Fort Scott. "We are so proud of our latest addition to the Lowell Milken Center and to downtown Fort Scott," said Norm Conard, the executive director. "Our vision is to have an impact on our community and the entire region in many different and positive ways. We appreciate the benevolent funding from the Lowell Milken Family Foundation and other significant contributions from generous donors such as Timken and others."
The Lowell Milken Center for Unsung Heroes (LMC) completed its main building in 2016 at the corner of Fort Scott's Wall and Main Streets. In 2018, a park was begun in the adjacent space south of the building in conjunction with members of the city's Park Committee: Beth Nuss, Elaine Buerge, Carolyn Sinn, and Bernita Hill. The LMC will now complete the park, called the "Unsung Heroes Park," featuring outdoor Unsung Hero exhibits with interactive story rails, a walking trail, an enhanced water feature, and beautiful landscaping with bench seating. The objectives of the park are to provide a place for visitors to enjoy the pleasant outdoor scenery, learn about unsung heroes, and offer a centralized community gathering space for programs and activities, while also complementing the downtown area.
The new Lowell Milken Center's Unsung Heroes Park is expected to be completed in mid-August by Dreamscape Innovations, Inc. The park will also feature the talents of teachers who have visited Fort Scott as past LMC Fellows and have helped design the park exhibits that will share new stories of Unsung Heroes. To learn more about the Center and its stories and programs visit www.lowellmilkencenter.org and keep up with current events and announcements on their Facebook page, www.facebook.com/LowellMilkenCenter.
According to Community Development Manager Allyson Turvey, "The Lowell Milken Center for Unsung Heroes is truly one of the great assets of Fort Scott and enriches our entire community. We are so thrilled to see the addition of the Unsung Heroes Park which will create a vibrant green space in our historic downtown and will benefit not only our local community, but the thousands of tourists that visit Fort Scott each year."
Since its inception, the Lowell Milken Center locally has hosted over 80,000 visitors from every state in the country and has impacted over 2 million students through its various programs. The LMC was established in 2007 and has expanded its reach nationally to include international programs and visitors from 102 countries to the LMC in Fort Scott. The Lowell Milken Center for Unsung Heroes is an educational non-profit that discovers, develops and communicates the stories of Unsung Heroes.
Contact: Norm Conard
Executive Director
Lowell Milken Center for Unsung Heroes
conardnorm@gmail.com
(620) 223-1312 office
---