Dr. Jane Foley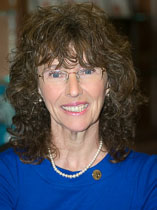 As senior vice president, Milken Educator Awards, at the Milken Family Foundation, Dr. Jane Foley oversees the selection and notification of Milken Educators and works with state agencies on state events related to the Awards. In 1994, she received the Milken Educator Award for the state of Indiana.
Dr. Foley is director of the Milken Scholars, an initiative that helps outstanding young men and women achieve their academic and professional goals. She is also senior advisor for the Lowell Milken Center, a Kansas-based initiative that supports projects across the country and world that feature unsung heroes that have changed the course of history.
From 2006 to 2010, she was senior advisor to former U.S. Secretary of Education Dr. William Bennett and led a team of Milken Educators to develop an online curriculum and advance the use of his American History books, America: The Last Best Hope, in schools across the country.
Starting in 2002, Dr. Foley led a Foundation project to disseminate an interdisciplinary curriculum guide based on The Children of Willesden Lane, a World War II memoir by Grammy-nominated pianist Mona Golabek that serves as a rich learning resource for schools. Dr. Foley also serves as an Honorary Director Emeritus on Mona's foundation, Hold On To Your Music.
Dr. Foley was a public school educator for 24 years, serving at the elementary and high school levels as both teacher and principal. Before coming to the Foundation in 1998, she was principal of Flint Lake Elementary School in Indiana, which, under her leadership, attained state and national recognition in the areas of school restructuring, professional development, technology integration and student achievement. Dr. Foley received her B.A., M.S., and Ph.D. from Purdue University, and her honors include the International Society of Educational Planning Outstanding Dissertation Award, Phi Kappa Phi Academic Honorary, and the 2011 Distinguished Education Alumni Award from Purdue University's College of Education.