Photos
2023 Milken Scholars
Photo 7 of 21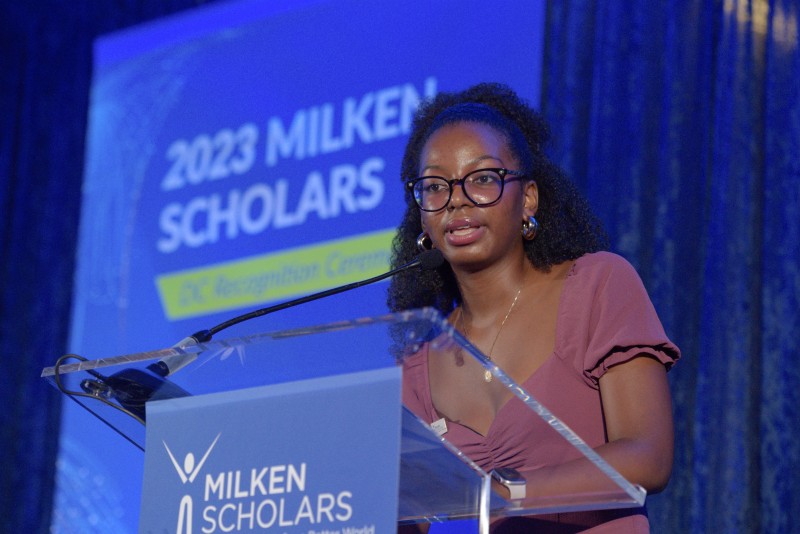 Mattie Isaac
Princeton University
Mattie Isaac studies history to support her community. She learned about World War II as a youth ambassador at the United States Holocaust Memorial Museum, creating a virtual exhibit that included interviews with survivors, witnesses and perpetrators, as well as interactive maps and primary sources from the museum's archives. Mattie was a member of the inaugural class of Harvard Undergraduate International Relations Scholars, researching ways for sub-Saharan Africa to respond and adapt to the economic challenges of the COVID-19 pandemic. Her essay on intimate partner violence in the District — which urged public schools to teach healthy dating behaviors, create schoolwide prevention events and revise sexual education curriculum — earned the first place prize in the One World Challenge Public Vote and High School Writing competition.
Mattie graduated as valedictorian from Benjamin Banneker High School with an International Baccalaureate (IB) diploma. She is a College Board National African American Recognition Scholar, OSSE (Office of the State Superintendent of Education) Scholar, and member of the National Honor Society, as well as Mu Alpha Theta and French Honor Societies. Mattie received the Princeton University Book Award, Kiwanis Club of Washington, D.C., Student Leader Award and CIEE Global Navigator Scholarship. She debated police reform and the school-to-prison pipeline in Banneker's Debate Club and served as secretary of the school's Gay-Straight Alliance. A four-year member of WISE (Women Inspiring Strength and Empowerment), Mattie led peers in discussions of self-esteem, healthy relationships, setting boundaries, breaking stereotypes and exploring career paths.
Mattie volunteered at local elementary schools and interned for both the Office of the Secretary of D.C. and The Literacy Project. She competed on Banneker's track and field team, participated in the drama club and enjoys playing piano. Mattie's studies have taken her around the world to places like South Africa, Dubai, Antigua, France, China and Cambodia.
Mattie will study political science at Princeton and plans a career in law.
---
All photos should be credited to "Milken Family Foundation" unless otherwise noted.
Download a high-resolution version of this image
---