Photos
2023 Milken Scholars
Photo 11 of 21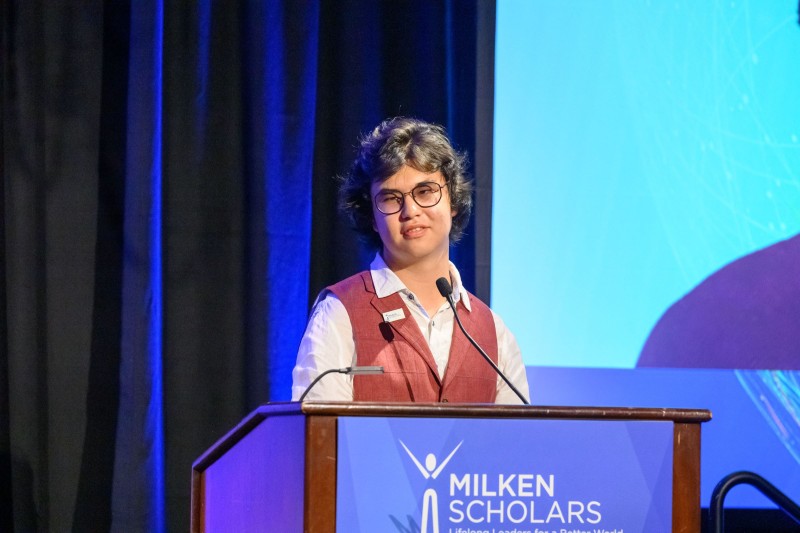 Murat Khidoyatov
Yale
For Murat Khidoyatov, science is a way to make the world a better place. Murat first encountered robotics in an after-school program in his native Kazakhstan, learning to apply mathematical theory and physics as he developed communication and teamwork skills. His team earned first place in the FIRST LEGO League Robotics Competition. When Murat arrived in the U.S. in 2020 and entered Brooklyn's Franklin Delano Roosevelt High School, he created and led a new FIRST Tech Challenge Robotics team, which went on to earn second place and a Judges' Choice Award. He studied Java Android development as an intern in Samsung's Coding Lab, creating a mobile app for online restaurant reservations in his Kazakh hometown. As co-founder of TailRed, Murat led a team of six high schoolers across the country to develop a website for sharing projects and research.
Murat is a QuestBridge National College Match and College Prep Scholar and an AP Scholar. He received the Quest for Excellence STEM Award and was a semifinalist in the MathWorks Math Modeling Challenge. Murat participated in weekly competitions and taught new members as the three-year captain of Roosevelt's math team. As junior and senior class representative in student government, he advocated for improvements and student needs and served as a liaison with Roosevelt administrators. Murat served as president of the National Honor Society and earned Roosevelt's 100-plus hour community service seal, organizing charity and mental health awareness events, tutoring fellow students in math and computer science, and helping Roosevelt teachers communicate with Russian-speaking students.
Murat spent two summers as a Harvard Undergraduate International Relationship Scholar, working with U.S. ambassadors, former government officials and policymakers to find solutions to global political issues. As the Eurasia region representative, he collaborated with five other students from around the world to research neo-Eurasianism, the expansionist ideology of contemporary Russia. An accomplished pianist, Murat earned the Forte Piano Competition's gold medal and performed solo at Carnegie Hall.
Murat will study biomedical engineering at Yale and plans a career in engineering.
---
All photos should be credited to "Milken Family Foundation" unless otherwise noted.
Download a high-resolution version of this image
---