Photos
2023 Milken Scholars
Photo 17 of 21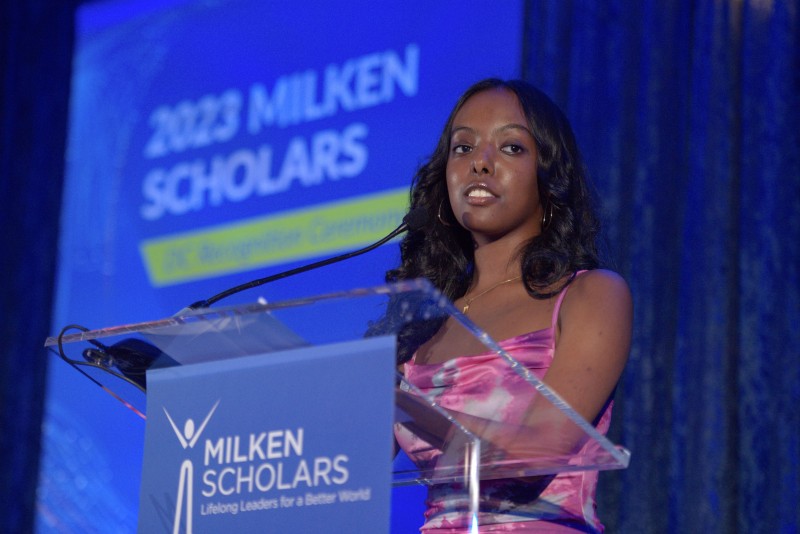 Merry Tola
Northwestern University
Merry Tola has a good head start on her planned future as a physician. Inspired by her family's difficulties obtaining adequate medical care in her native Ethiopia, Merry spent more than 200 hours volunteering at Howard University Hospital. She calmed anxious families, brought patients water and warm blankets, organized paperwork, and transported patients around the facility. During the holidays, Merry collected clothing, toys and canned goods for the hospital's Christmas drive. Observing and interacting with patients, families and hospital staff built important skills: gratitude, compassion, patience and perseverance.
Merry graduated from Benjamin Banneker High School with an International Baccalaureate (IB) diploma. She is a QuestBridge College Match Scholar and received the College Board National African American Recognition Award and the Dartmouth Alumni Club Book Award. Merry was a member of the National Honor Society and Mu Alpha Theta Honor Society. As vice president of the Spanish Honor Society, she helped plan holiday celebrations, dance lessons and potlucks honoring Hispanic culture. At Banneker, Merry researched and debated solutions to promote climate action and gender equality as a member of the Model United Nations and organized mental health awareness events and first aid classes as a youth mental health ambassador. The co-founder and president of Banneker's Community Projects Club, Merry worked with more than 30 fellow students to raise funds and assemble care packages for community shelters serving women and youth.
As a volunteer with the Latin American Youth Center (LAYC), Merry participated in education programs focused on gun violence, preventing drug abuse, LGBTQ+ rights and the importance of the U.S. Census. She honed her lab stills as a biotechnology research assistant at the Carnegie Institution for Science, where she mimicked the production of insulin in experiments using autoclaves, electrophoresis and micropipettes.
Merry will study biology, with a double minor in English and Spanish, at Northwestern University, and plans a career in medicine.
---
All photos should be credited to "Milken Family Foundation" unless otherwise noted.
Download a high-resolution version of this image
---